You may be wondering if you need the Driver CPC.
Well, let's find out: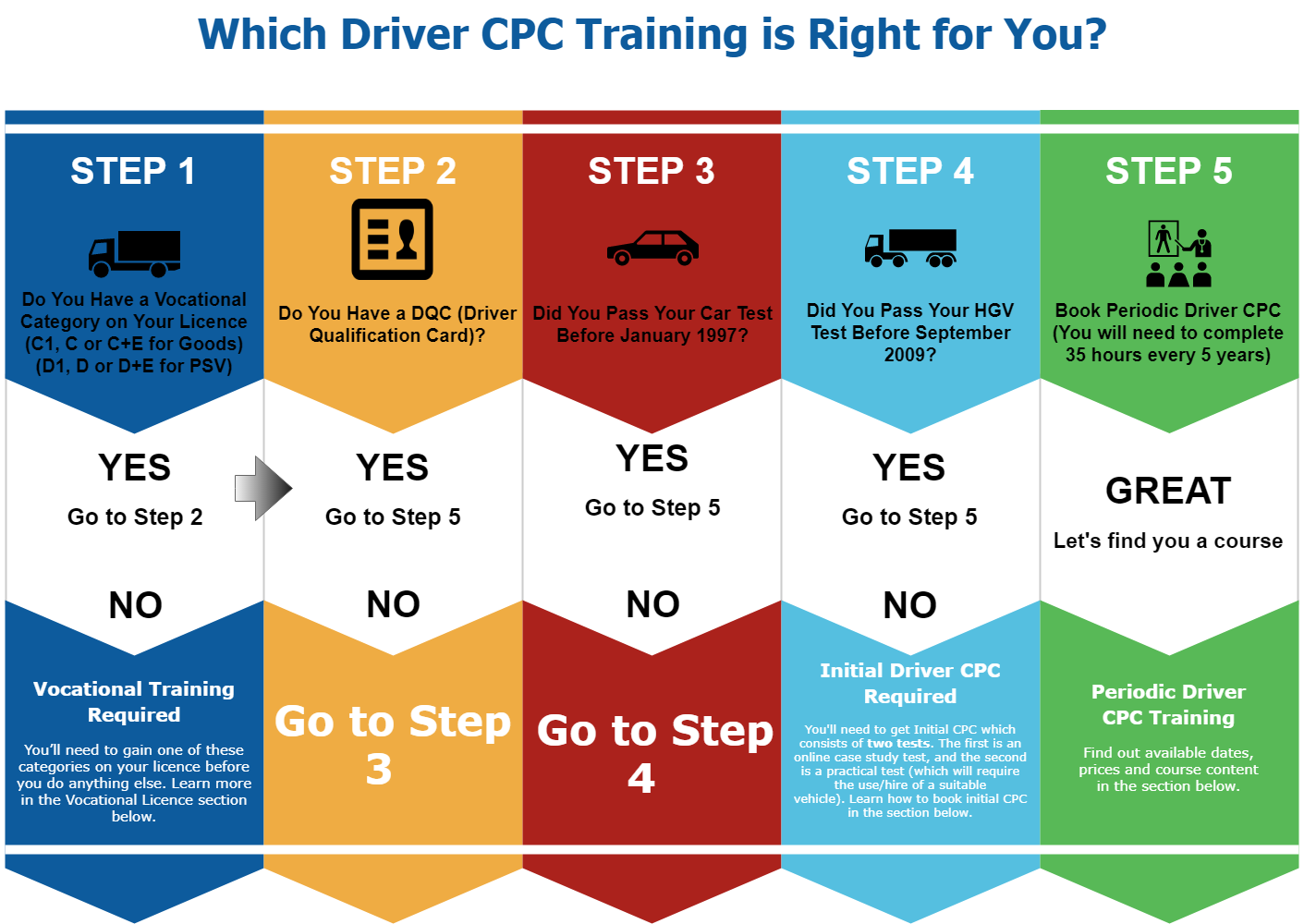 Vocational Training
If you don't have a vocational driving licence for either:
Lorries: Category C1, C or C+E
Busses: Category D1, D or D+E
You'll need to get one. How? First of all, you'll need a full Category B (Class 1) licence. Then you can apply for your provisional Category C, C1, D or D1 (bundled together into Class 2) licence. Then you must pass your test.
The test consists of two parts:
Module 1: Driving Theory Test
Module 3: Driving Practical Test
Passing these two modules will demonstrate that you have an understanding of the practical elements of HGV driving, and will get you your heavy goods driving licence.
If this is the stage you're at, you'll need to get booked into an accredited LGV practical testing facility. Chartwise is NOT one of them. To find out which categories you need, visit the GOV Licence Categories web page.
DID YOU KNOW: those taking an approved National Vocational Training (NVT) course can drive professionally for up to a year without taking Parts 2 & 4 of the DCPC test.
Initial CPC
After you've got your licence, you'll then need to get your DQC (Drivers Qualification Card). To do so, you must pass the Initial CPC.
This qualification consists of two tests:
Module 2: Case Study Exam
Module 4: Practical Demonstration
Chartwise also do NOT offer this. Once you've passed these elements, you'll be good to attend Periodic Driver CPC: which is totally our bag. Once you've passed all four modules, give us a shout - we'll put you on the road to becoming a fully-fledged wagoner.
For more detailed info on the Initial CPC, check this out.
Keeping the qualification
The DCPC is not a lifetime qualification. It's valid only for 5 years.
Within that 5-year period, you must complete another 35 hours to maintain your qualification. Most drivers opt to sit one module (7 hours) per year to spread the cost and the time off road.
What's next?
Well, now that you know more about the Driver CPC qualification and have established whether or not you need it, it's time to take a closer look at the course itself: